Posts for: January, 2019
By Cambridgeport Dental, LLC
January 16, 2019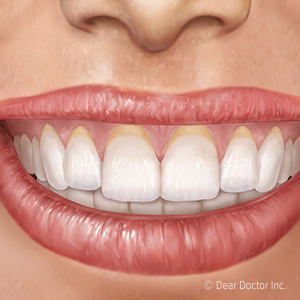 A "toothy grin" might be endearing, but not necessarily healthy. More of the teeth showing may mean your gums have pulled back or receded from the teeth. If so, it's not just your smile that suffers—the parts of teeth protected by the gums could become more susceptible to disease.
There are a number of causes for gum recession. Some people are more likely to experience it because of genetically thinner gum tissues. Over-aggressive brushing could also contribute to recession. But the most common cause by far is periodontal (gum) disease, a bacterial infection triggered by dental plaque accumulating on teeth mainly as a result of inadequate hygiene.
There are some things we can do to help heal and restore recessed gums, most importantly treating gum disease. The number one goal of treatment is to uncover and remove all dental plaque from tooth and gum surfaces, which can take several sessions and sometimes minor surgery if the infection has reached the tooth roots. But removing plaque and tartar (calcified plaque) is necessary to stop the infection and allow the gums to heal.
For mild recession, this may be enough for the gums to regain normal coverage. But in more severe cases we may need to help rejuvenate new tissue with grafting surgery. In these highly meticulous procedures a surgeon uses microscopic techniques to position and attach donated tissue to the recession site. The graft serves as a scaffold on which new tissue growth can occur.
While these treatments can be effective for reversing gum recession, they often require time, skill and expense. It's much better to try to prevent gum recession—and gum disease—in the first place. Prevention begins with daily brushing and flossing to prevent plaque buildup, as well as regular dental visits for more thorough cleanings. Be on the lookout too for any signs of a beginning gum infection like swollen, reddened or bleeding gums and see your dentist as soon as possible to minimize any damage to your gums.
Caring for your gums is equally as important as caring for your teeth. Healthy gums equal a healthy mouth—and an attractive smile.
If you would like more information on preventing gum recession, please contact us or schedule an appointment for a consultation. You can also learn more about this topic by reading the Dear Doctor magazine article "Gum Recession."
By Cambridgeport Dental, LLC
January 06, 2019
Dental veneers, thin layers of porcelain bonded to chipped, stained or slightly crooked teeth, are an effective and affordable way to transform your smile. Their color, translucence and shape blend so well with the rest of your teeth that it's often difficult to tell them apart.
But traditional veneers have one drawback: although they're less than a millimeter in width, they can still appear bulky on unprepared teeth. To help them look more natural, we often have to remove some of the enamel layer from the tooth surface. Enamel doesn't grow back, so this alteration is permanent and the prepared teeth will require a restoration from then on.
But you may be able to avoid this—or at least keep the alteration to a minimum—with no-prep or minimal-prep veneers, two new exciting choices in cosmetic dentistry. About the width of a contact lens, we can bond these much thinner veneers to teeth with virtually no preparation at all or, in the case of a minimal-prep veneer, needing only an abrasive tool to reshape and remove only a tiny bit of the enamel.
These ultra thin veneers are best for teeth with healthy enamel, and can be placed in as few as two appointments. And besides being less invasive, the procedure is reversible—we can remove them and you can return to your original look without any follow-up restoration. One caveat, though: because of the strong bonding process used, it's not always easy to remove them.
Although their thinness makes it possible to avoid or minimize alterations, there are some dental situations like oversized teeth that may still require extensive tooth preparation. With some poor bites (malocclusions) orthodontic treatment to straighten the teeth may also be needed first.
All in all, though, no-prep or minimal-prep veneers could help you avoid the permanent tooth alteration that usually accompanies their thicker cousins. What's more, you'll have the beautiful, transformed smile that veneers can achieve.
If you would like more information on minimal or no-prep veneers, please contact us or schedule an appointment for a consultation. You can also learn more about this topic by reading the Dear Doctor magazine article "No-Prep Porcelain Veneers."