Posts for: January, 2018
By Cambridgeport Dental, LLC
January 18, 2018
Everyone has to face the music at some time — even John Lydon, former lead singer of The Sex Pistols, arguably England's best known punk rock band. The 59-year old musician was once better known by his stage name, Johnny Rotten — a brash reference to the visibly degraded state of his teeth. But in the decades since his band broke up, Lydon's lifelong deficiency in dental hygiene had begun to cause him serious problems.
In recent years, Lydon has had several dental surgeries — including one to resolve two serious abscesses in his mouth, which left him with stitches in his gums and a temporary speech impediment. Photos show that he also had missing teeth, which, sources say, he opted to replace with dental implants.
For Lydon (and many others in the same situation) that's likely to be an excellent choice. Dental implants are the gold standard for tooth replacement today, for some very good reasons. The most natural-looking of all tooth replacements, implants also have a higher success rate than any other method: over 95 percent. They can be used to replace one tooth, several teeth, or an entire arch (top or bottom row) of teeth. And with only routine care, they can last for the rest of your life.
Like natural teeth, dental implants get support from the bone in your jaw. The implant itself — a screw-like titanium post — is inserted into the jaw in a minor surgical operation. The lifelike, visible part of the tooth — the crown — is attached to the implant by a sturdy connector called an abutment. In time, the titanium metal of the implant actually becomes fused with the living bone tissue. This not only provides a solid anchorage for the prosthetic, but it also prevents bone loss at the site of the missing tooth — which is something neither bridgework nor dentures can do.
It's true that implants may have a higher initial cost than other tooth replacement methods; in the long run, however, they may prove more economical. Over time, the cost of repeated dental treatments and periodic replacement of shorter-lived tooth restorations (not to mention lost time and discomfort) can easily exceed the expense of implants.
That's a lesson John Lydon has learned. "A lot of ill health came from neglecting my teeth," he told a newspaper reporter. "I felt sick all the time, and I decided to do something about it… I've had all kinds of abscesses, jaw surgery. It costs money and is very painful. So Johnny says: 'Get your brush!'"
We couldn't agree more. But if brushing isn't enough, it may be time to consider dental implants. If you would like more information about dental implants, please call our office to schedule a consultation. You can read more in the Dear Doctor magazine articles "Dental Implants" and "Save a Tooth or Get an Implant?"
By Cambridgeport Dental, LLC
January 03, 2018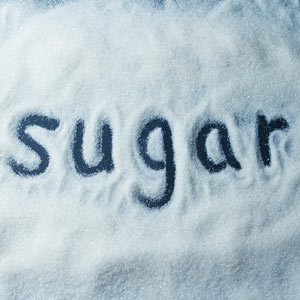 It's easy to go overboard with sweets during the holiday season. But overconsumption of sugar, month after month, can jeopardize your oral and general health. A sugary diet nourishes the bacteria that cause tooth decay. Eating too much sugar over time also promotes general health problems such as diabetes and excessive weight gain.
The beginning of a new year is a great time to bring your diet back into balance. But if you really want to cut down on sugar, you'll need to be aware that there is a lot of sugar hiding in foods you where wouldn't normally suspect it. Here are some examples:
Ketchup. Do you like ketchup on your burger and fries? For every tablespoon of ketchup you use, you'll be adding about 4 grams of sugar (one teaspoon). That can add up pretty quickly into a significant amount of sugar!
Canned tomato soup. Read the label of your favorite brand and you might see as much as 12 grams of sugar per half-cup serving. That equals three teaspoons of sugar in every half cup of soup—even more in a full bowl!
Granola. You may think of granola as a healthy choice for breakfast. Yet you're likely to see sugar listed as the second ingredient on many favorite brands—right after oats. This typically adds up to 15 grams of sugar per serving. That's almost 4 teaspoons, in a food promoted as healthful!
Yogurt. Here, the amount of sugar varies widely among brands and flavors. One container of vanilla yogurt might contain 3 or more teaspoons of added sugar. Put that on a breakfast serving of granola, and your first meal of the day has already topped the 6-teaspoon daily limit recommended by the World Health Organization.
So, to prevent sugar from sneaking up on you, it's important to read those labels! And if you have any questions about sugar and oral health, please contact us or schedule an appointment for a consultation. You can learn more by reading the Dear Doctor magazine articles "The Bitter Truth About Sugar" and "Nutrition and Oral Health."