Posts for: October, 2016
By Cambridgeport Dental, LLC
October 22, 2016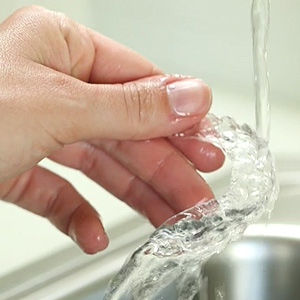 Oral appliances run the gamut from night guards and retainers to full or partial dentures. Millions of people depend on them for restoring or maintaining dental health.
Today's user-friendly appliances reflect the latest advances in technology. But that doesn't mean you can simply "place them and forget them." Their longevity depends on taking care of them.
The most important aspect of appliance care is keeping them clean. Although bacteria have no effect on an appliance's materials, they can accumulate on its surfaces and raise the risk your natural teeth and gums will be infected. To reduce that risk you should clean your appliance every day.
The best way is with a countertop ultrasonic cleaner. These units emit high frequency sound vibrations that loosen plaque (a thin film of bacteria and food particles) from even the appliance's tiniest crevices. Most units cost between $40 and $60, and pose less of a scratching risk to the appliance's surfaces than manual cleaning.
If you'd prefer to use a brush, there are some dos and don'ts to follow. You can use a cleaner especially designed for your appliance, but less expensive mild dish detergent or hand soap (with an antibacterial agent) will work too. Don't use toothpaste — most contain an abrasive ingredient for removing plaque from enamel that could leave microscopic scratches on your appliance. Use a soft-bristle toothbrush (but not the one you use for your natural teeth) or one designed for your appliance.
While boiling kills bacteria, the high heat can soften and warp the plastic material in an appliance. This could alter how the appliance fits in your mouth, making them loose and uncomfortable to wear. You should also avoid bleach: it can whiten acrylic or nylon designed to mimic the red color of real gum tissue.
Unless we've advised you otherwise, don't wear the appliance around the clock, a practice that raises the chances of bacterial accumulation. And be sure you also brush and floss your natural teeth every day.
Keeping both your mouth and your appliance clean helps ensure the best oral health possible — and that your appliance will last longer.
If you would like more information on caring for oral appliances, please contact us or schedule an appointment for a consultation.
By Cambridgeport Dental, LLC
October 07, 2016
Can you have healthy teeth and still have gum disease? Absolutely! And if you don't believe us, just ask actor David Ramsey. The cast member of TV hits such as Dexter and Arrow said in a recent interview that up to the present day, he has never had a single cavity. Yet at a routine dental visit during his college years, Ramsey's dentist pointed out how easily his gums bled during the exam. This was an early sign of periodontal (gum) disease, the dentist told him.
"I learned that just because you don't have cavities, doesn't mean you don't have periodontal disease," Ramsey said.
Apparently, Ramsey had always been very conscientious about brushing his teeth but he never flossed them.
"This isn't just some strange phenomenon that exists just in my house — a lot of people who brush don't really floss," he noted.
Unfortunately, that's true — and we'd certainly like to change it. So why is flossing so important?
Oral diseases such as tooth decay and periodontal disease often start when dental plaque, a bacteria-laden film that collects on teeth, is allowed to build up. These sticky deposits can harden into a substance called tartar or calculus, which is irritating to the gums and must be removed during a professional teeth cleaning.
Brushing teeth is one way to remove soft plaque, but it is not effective at reaching bacteria or food debris between teeth. That's where flossing comes in. Floss can fit into spaces that your toothbrush never reaches. In fact, if you don't floss, you're leaving about a third to half of your tooth surfaces unclean — and, as David Ramsey found out, that's a path to periodontal disease.
Since then, however, Ramsey has become a meticulous flosser, and he proudly notes that the long-ago dental appointment "was the last we heard of any type of gum disease."
Let that be the same for you! Just remember to brush and floss, eat a good diet low in sugar, and come in to the dental office for regular professional cleanings.
If you would like more information on flossing or periodontal disease, please contact us today to schedule an appointment for a consultation. You can also learn more by reading the Dear Doctor magazine article "Understanding Gum (Periodontal) Disease."